App options
From the apps displayed in the Dashboard, you have the following options for an unpublished, already published and an App published to ERPx.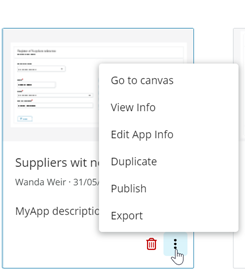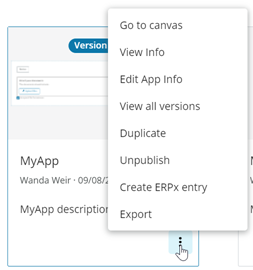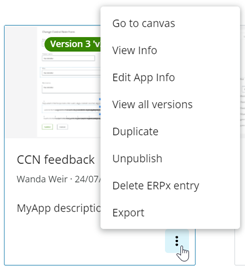 The available options are:
Go to canvas: Opens the App in the Canvas for editing
View info: Opens an info panel showing:

App name
Description
Version number if the App is previously published
Status as published or unpublished
The URL of the published App

Edit App info: Lets you change the App name and description
View all versions: Lets you view all published versions of the App. See Viewing published versions for more details.
Duplicate: Creates a draft copy of the App. If several version exist you can select which version you want to copy.
Publish: Creates a URL for publishing your draft App where you are prompted to provide a unique name. When you publish the App its version number is incremented by 1. See Publishing and versioning for more details.
Unpublish: Unpublishes the published App and removes its menu item from the ERPx menu
Create ERPx entry: For an App that has already been published, creates an ERPx menu entry. See Create an ERPx menu entry for more details.
Delete ERPx entry: For an App that has been published to ERPx, this deletes the menu entry
Export: Exports the App definition as a JSON file. Here you select which version you want to export.